At Dalton Tags we always strive to be ahead of current farming trends and keep up to date with potential new legislation when it comes to livestock identification tags.  Recently there has been numerous reports that electronic ear tags or EID tags could become compulsory.
With this in mind we have broadened our range of EID Cattle Tags to include button EID ear tags, visual EID flag ear tags and reusable management button ear tags.  As with all of our Flexo range of ear tags they enjoy a market leading 99% retention rate and one easy to use applicator. The electronic element in our EID ear tags has a guaranteed lifetime read.
As England and Wales' favourite livestock ear tag supplier we not only have a fantastic range of ear tags to suit your needs but also a fantastic service ensuring top customer satisfaction, speedy delivery of ear tags and fantastic prices.
Our office based customer service team are on hand to offer advice, answer questions and of course take orders.
We thought we would explain some of the key features and benefits of EID tags.
What are EID ear tags?
EID ear tags are also known as RFID, Radio Frequency Identification tags. Each tag has a watertight sealed unit which contains an electronic sealed chip/transponder which is encoded with a unique tag number. The information in the transponder can be read with a handheld or static reader. EID/RFID tags are suitable for both dairy and beef herds and are DEFRA approved tags. They come in HDX (Half Duplex) and FDX (Full Duplex) formats.
What is the difference between HDX and FDX?
HDX (Half Duplex) talks to the reader like a 2-way radio/ walkie talkie. The reader sends out a signal and the tag replies. HDX is the most popular choice with dairy farmers and those with older metal crushes.
FDX (Full Duplex) is where the information goes back and forth like a mobile phone signal. FDX is often more suited to non-dairy environments. Sheep tags are all FDX
Both tags can be read with a handheld/wand reader or static panel style readers.
Why Use EID/RFID?
Using electronic tags can benefit herd keepers in several ways:
-Reduces the need for visibly seeing an ear tag, useful in poor lit areas.
-Tags require no battery, therefore lasts the life of the animal. The tag is activated when it passes within the field of the reader.
-Allows the user to collect data on each individual animal which is stored automatically and can be sent to a farm management system. Veterinary information, milk productivity and feeding plans etc can then be added to the management system.
-Time consuming paperwork is reduced.
– Ideal from birth as official or management tags.
– National governments are actively discussing electronically tagging cattle as compulsory in the near future. Coming on board now with EID will keep you ahead of the game.
Benefits of using Dalton Tags EID Flexo Range
* Our straight-line applicator does the whole Flexo Range. Visual /BVD/EID
* Watertight sealed transponder
* Tamper Proof design
* Dalton EID tags work with all the latest automotive reading systems.
* Proven reliability with excellent retention.
* Dalton Tags offer both management and official EID tags.
* Cattle Society discount is given on the whole Dalton Range
* Friendly knowledgeable team at the end of the phone
Why not give us a call to discuss more about EID ear tags.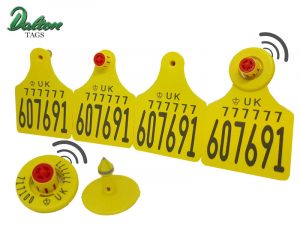 View our range of EID ear tags for Cattle here 
View our range of EID ear tags for Sheep here